Cocoa butter is an excellent moisturizer as it is full of fatty acids. It is also rich in antioxidants. Be careful if you are prone to acne as a side effect, as this can clog pores. Benefits of cocoa butter to the skin
Benefits of Cocoa Butter for Skin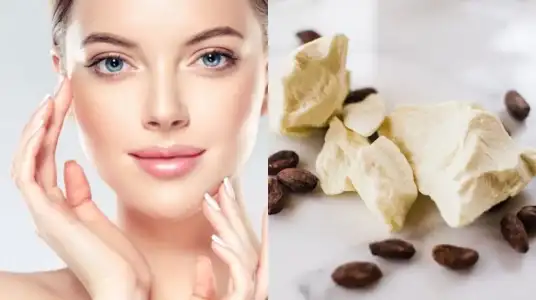 It is an antioxidant powerhouse: Cocoa butter is packed with antioxidants that help fight free radical damage that can cause skin aging, dark spots and dull skin. It is very valuable to protect your skin from free radical damage and keep it looking healthy and youthful. Cocoa butter is also an anti-inflammatory.
Reduces stretch marks and scars:Many ladies claim that regular use of cocoa butter keeps stretch marks away, both during and after pregnancy.
It is a rich moisturizer: Cocoa butter is high in fatty acids and deeply moisturizes the skin, making it an excellent addition to body moisturizers and lip balms. All contain oleic, palmitic and stearic acids that nourish the skin.
Smoothes sensitive skin:It is not guaranteed to be reusable, but cocoa butter has been noted by some to help with skin irritations such as dermatitis.
Read:
Can cocoa butter cause acne?
If you are prone to acne, be careful when using cocoa butter as it can clog pores.
Does research support the skin benefits of using cocoa butter?
There are no studies proving the benefits of cocoa butter in skin care; Many of the benefits are anecdotal.
Can cocoa butter help with scars?
Yes, cocoa butter can help with the appearance of scars less than two years old.