How To Take Skin Care With Aloe Vera?
Aloe vera is used for therapeutic purposes from skin injuries the basic ones are:
Burn
ulcer
Wrinkle
Acne and acne
Aloe Vera for Dry Skin
Aloe patio can be prepared using the humidification feature. skin mask examples are:
Aloe vera and coconut oil: 1 aloe vera leaf is cut from one end to the other and the transparent gel inside is extracted. This gel is poured into a bowl and half a cup of coconut oil is added to it. Mixing is continued until the mixture in the bowl is well mixed and smooth. This mixture is applied to the face and neck area as a mask. As it is recommended to be done before going to bed at night, it is also recommended to leave the mask on the face throughout the night. When awakened, the face is cleansed.
Yogurt, fresh cucumber and aloe vera: 4 tablespoons of pure aloe vera gel, 2 tablespoons of yogurt and 6 tablespoons of fresh cucumber juice; mixed in a bowl. This mixture is applied to the skin as a mask. After the mask is left on the face for 15-20 minutes, the skin is rinsed with warm water.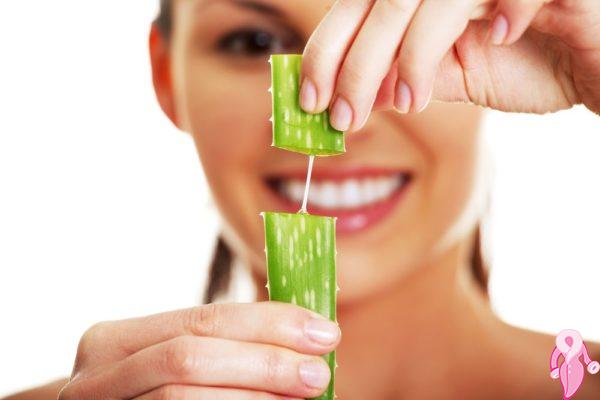 Aloe Vera for Oily Skin
For oily skin pimples and because blackhead formation is more common; Examples of masks with aloe vera that can be applied to these skins are:
Eggs, honey, barley and aloe vera:2 tablespoons of barley flour, 1 teaspoon of honey, 1 egg, gel of 1 aloe vera leaf; It is mixed in a bowl until it reaches a paste-like consistency. This mixture is then applied to the face as a mask. A brush can also be used while applying it to the face. According to the drying time of the mask, after drying, the mask is removed by washing with warm water. It is a mask that balances oil on the skin and is good for acne.
Facial rejuvenation mask: It is applied as a mixture of the juice of 1 cucumber and the gel of 1 aloe vera leaf on the face. When this mask dries, the skin is cleaned and 3 drops of vitamin E are massaged into the skin with circular movements.