Try these DIY rose masks for your face and notice the glow on your skin for yourself. Known as the "flower of love", the rose is associated with much more than its fragrance. Antioxidants and vitamins are abundant in roses. Anti-aging properties with vitamins A, C, D, and E are found in rose essential oil, helping to reduce wrinkles and fine lines while slowing down the aging process. Even rose water can be used to balance the pH levels in your skin as a module of your daily skincare regimen. Also known as "moisturizer", it moisturizes and soothes any kind of itching. You can use roses on their own or as an irresistible addition to face masks. Roses are a fantastic tool to add to face masks. Here are several ways to make rose face masks:
1. Yogurt and Rose Mask Recipe

This face cream is great for boosting your skin's radiance, thanks to the lactic acids found in yogurt that provide natural shine.
How to: Rose petals should be crushed into a paste. Heat a tablespoon of organic honey until it turns runny. Add honey, one tablespoon of yogurt and two tablespoons of rose water to the paste made from rose petals. After mixing completely, your face mask is ready.
2. Raw Milk and Rose Mask Recipe

The milk and chickpea flour used in this face mask make a nice exfoliator that clears away dead skin cells and reveals glowing skin.
How to: Fresh rose petals should be peeled and washed carefully. Make a paste from the leaves using a pestle and pestle. Add two teaspoons of chickpea flour and raw milk to this paste. Stir the mixture to prepare the mask. When ready, apply it to your face and neck and wait for 20 minutes. Wash it after twenty minutes.
3. Rose Recipe with Sandalwood Powder

The raw milk used in this rose face mask is an excellent cleanser, and sandalwood powder with its antioxidant properties will give your skin a refreshing glow.
How to: Crush the leaves of two fresh roses to form a paste. Add raw milk and 1-2 teaspoons of sandalwood powder. Mix everything properly to make the face mask. After applying the mask on your face, leave it there until it dries completely. Wash it after a while
4. Aloe Vera and Rose Mask Recipe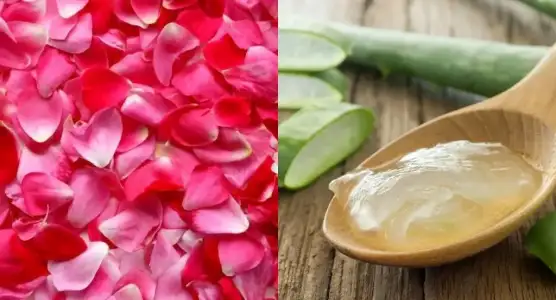 Aloe vera is a natural humectant, this works beautifully on your skin, hydrating and rejuvenating it, giving it a natural glow.
How to: Add two tablespoons of aloe vera gel to two fresh rose petals, crush them properly. Combine enough for a smooth paste. If it is too thick, add some rose water to the paste and it will be ready. Apply to your face and neck for 20 minutes. Then rinse with warm water.